Allergy Friendly, Vegan, Premium Care for Men: Early Black Friday SALE 45% off code BLACKFRIDAY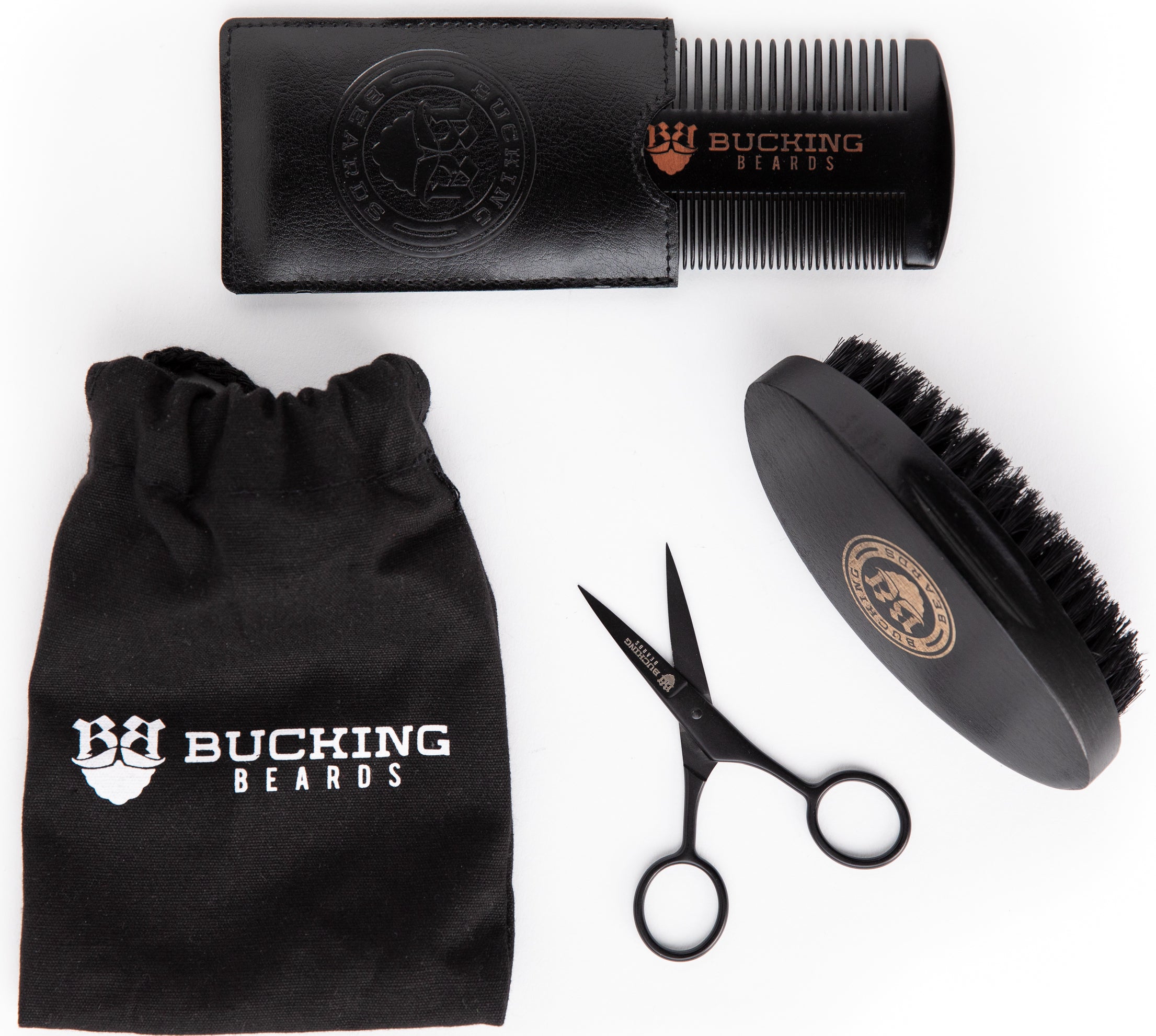 Beard Kit
description
Transform Your Beard Game with Bucking Beards' Premium Beard Kit
Kickstart Your Beard Journey with the Bucking Beard Kit – the perfect beard starter kit or a thoughtful gift set for someone special. This comprehensive kit includes all the essential tools you need to grow and groom your beard with confidence.
Don't miss out on keeping your beard looking sharp and stunning!
This kit includes:
Travel Bag

Wooden Comb with Pouch

Bristle Brush

Mustache Scissors
Perfect Kit
Love the kit i am a celebrity barber and i love the kit it super efficient the dual sided comb and the scissors brush, all make it easy to work and do what you need to do for keeping beard and facial hair in sinc.
Perfect gift & travel kit
I got this beard kit for my boyfriend. He's been looking for a new beard grooming kit & this has been perfect for him. We love to travel & this is the perfect travel-size kit for him to bring along on our travels. He loves it.
My fiancé loves this!
From the brush to the comb and the scissors it's all top notch! Great quality with a sleek and modern look. He keeps the comb in his pocket now since the day the package arrived.
This kit is great!
The dual sided comb is definitely my favorite item in this kit. It's made of great quality material. The brush is nice, personally I wish it was a little firmer but it still gets the job done. The scissors are also great!
Great product!
I recently tried the beard kit and I must say, it has completely transformed my grooming routine. This kit is a game-changer for any man looking to take their beard to the next level. First and foremost, the quality of the products in this kit is exceptional. One of my favorite features of this kit is the beard brush and comb. They are both made with high-quality materials and are perfect for untangling knots.They have become an essential part of my grooming routine and have helped keep my beard looking neat and well-maintained. In addition to the excellent products, the packaging of this kit is sleek and stylish. It's perfect for travel! Overall, I am extremely satisfied with this beard kit.