Allergy Friendly, Vegan, Premium Care for Men: Early Black Friday SALE 45% off code BLACKFRIDAY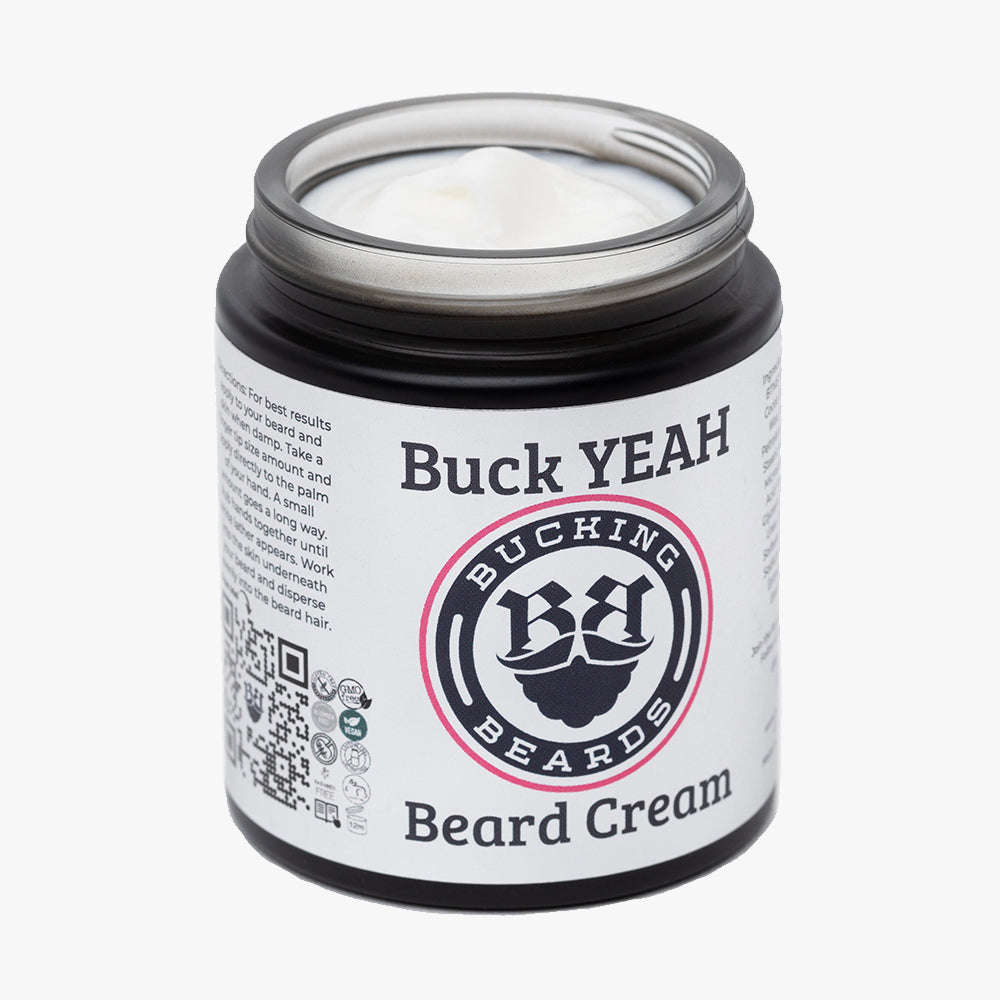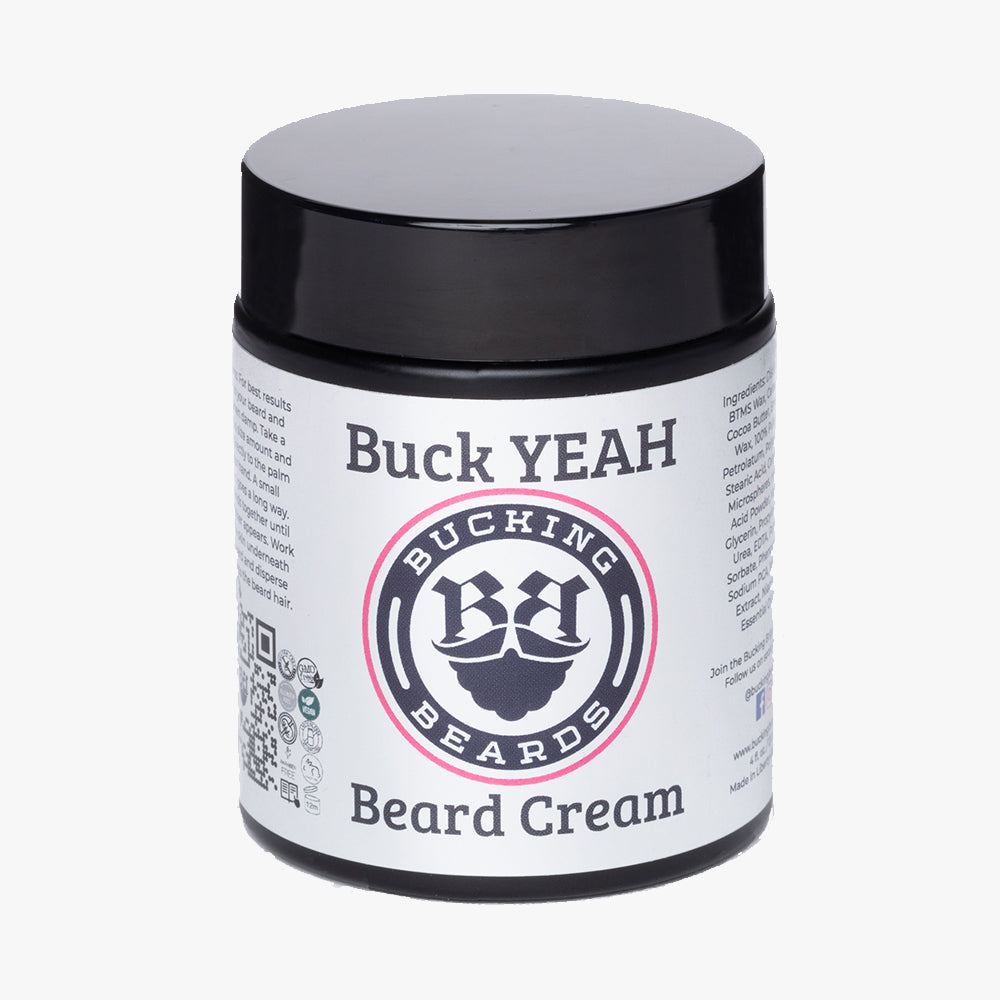 Hypoallergenic, Cruelty-Free, Vegan Buck YEAH - Beard and Scruff Cream
description
Description
Men's skincare made easy, without compromise.
Experience the all-in-one Buck 'Em All formulation – a moisturizing, anti-inflammatory aftershave, face serum, and cream. Powered by premium natural ingredients like Hemp Seed Oil, Hyaluronic Acid, Urea, and Niacinamide, this easy-glide formula soothes razor burn and provides disinfecting qualities with Witch Hazel. Suitable for all skin types, every day. Allergen Free, Gluten Free, and Vegan.
Fragrance Profile:
Smoldering Sandalwood containing Sweet Vanilla Undertones. Refreshing scent that is designed for sensitive skin and gives a bright accent feature. 
This product brings a moisturizing experience to an all new level. It helps to moisturize the skin underneath your beard, soften beard hair, and has a light hold quality for an all day product. This cream delivers the best hydration to the skin and prevents flakey/itchy skin. Powered by optimized skin-loving natural ingredients including Hyaluronic Acid, Urea, and Niacinamide. This formula provides a moisturizing, dandruff free, and a mild shaping effect to your beard. Similar to a leave-in conditioner. Great for all skin types, morning or night. This cream is formulated Allergen Free, Gluten Free, and Vegan.
Refresh your beard — and get it growing in the right direction. Once you commit to a beard, you don't want to let growing pains make you regret that decision. If not properly hydrated, sharp facial hair can irritate skin — and a growing beard can go through an awkward, unruly phase. Our lightweight formula will help soothe itch and tame unruliness without feeling heavy or greasy. 
Bucking Beards Beard Balm combines all natural ingredients to condition your beard and skin. It hydrates and soothes dry itchy skin and repairs short or long dry damaged beard hair. Use it for a manageable groomed tamed beard.
This beard cream is super simple to use; just add to your daily grooming routine and leave in for a fuller beard appearance and manageability without feeling greasy or sticky. Leaves hair hydrated with a healthy shine. Stroke your beard to feel the silky, natural texture.
HAND MADE IN LOS ANGELES, USA: Bucking Beards men's grooming line provides premium, high quality all-natural products. Each batch is handcrafted with you in mind. 
Benefits:
Moisturizing
Hydrating
Softening
How To Use:
Best to apply when your beard and skin are damp. Take a finger tip size amount and apply directly to the palm of your hand. Rub hands together until white lather appears. Work into the skin underneath your beard and disperse evenly into the beard hair. Comb through with our Bucking Beards beard brush and a wooden comb to style!
Ingredients:
Distilled Water, BTMS Wax, Ceteareth-20, Cocoa Butter, Emulsifying Wax, 100% White Purified Petrolatum, Stearic Acid, Cetyl Alcohol, Hyaluronic Acid Powder, Vegetable Glycerin, Potassium Sorbate, Phenoxyethanol, Sodium PCA, Willowbark Extract, Niacinamide, Essential Oil Blend.
Net Weight: 4 fl. oz. / 120 mL
Didn't Know I needed this
This is now on my daily rotation. I've used a lot of beard creams but this is something that is great to keep the beard soft and the skin not itching while giving you a moisturized look. Plus I love anything that smells great but it's not overpowering.
Great Beard Cream
I have been using the beard cream for a few days now after shower. I absolutely love it. It keeps my beard moisturized and smooth. I definitely will be adding it to my daily routine.
Super great beard cream!
This beard cream made my boyfriends beard so soft! He loves it and it makes it less scratchy so I love it too! It also smells so so good!
Great Beard Cream
This is a great beard cream! It conditions and moisturizes very well! I was really happy with how great it smelled and how nice it made my beard feel. I've been using it for just over a week and am really happy with the results! Excellent!
Awesome quality stuff!
Got the beard cream for my beaded boyfriend and opened it up and it smells, looks and feels so luxurious. He loved this beard cream and ended up using it every day I have got it for him since!As his girlfriend I love the smell and will be buying him more for sure once it runs out! Cool that is it also gluten free!